Teaching and demonstrations
ArtHouse, Benidoleig, Costa Blanca, Spain.
Portrait painting workshop.
One on one tutoring in my studio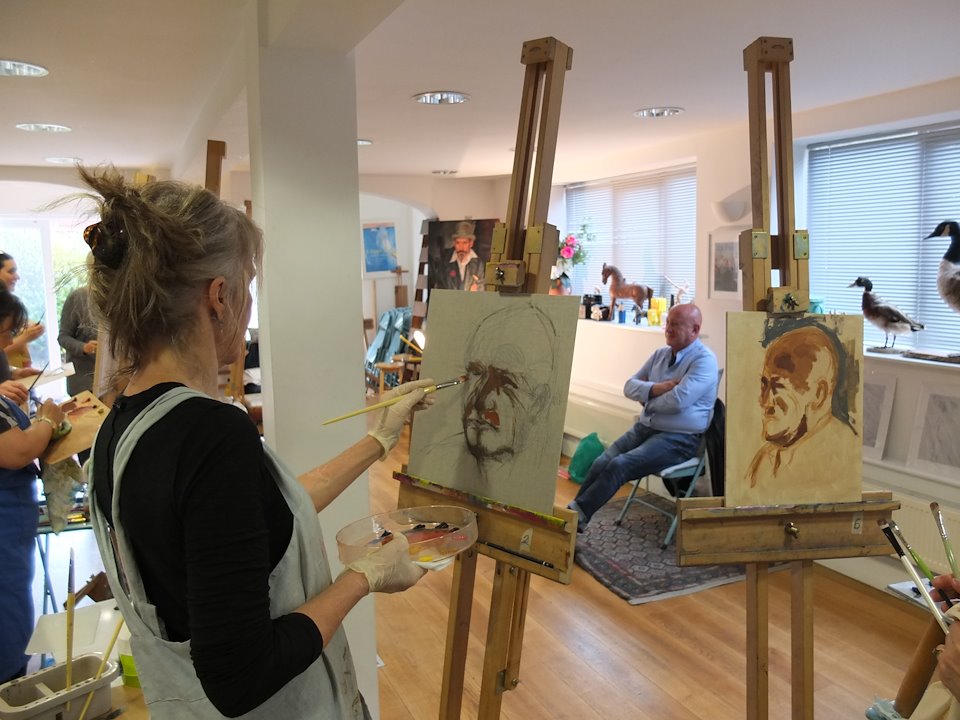 WORKSHOPS, COURSES AND DEMONSTRATIONS
I run regular courses, workshops and demonstrations in painting and drawing for a number of art groups and societies across the uk and occasionally Spain and Portugal.
I'm fully CRB checked and also offer one to one tuition from my home studio in Brill Buckinghamshire.
PEGASUS ART
https://www.pegasusart.co.uk
Oct 24, 2020 – Palette knife portraits in oils
Sept 26, 2020 – Loosen up With Oils.
BRILL MEMORIAL HALL
https://markfennell.co.uk
Sept 3 – Oct 8, 2019 – every tuesday 10am – 1pm
Oil painting workshop, still life, landscape and portraits.
PURE ARTWORK STUDIO
https://www.pureartworkstudio.co.uk
Oct 8 – 9, 2020 – Plein air landscapes.
Oct 22, 2020 – Portraits in Acrylic.
Nov 11 – 12, 2020 – Expressive portraits in oils.
Nov 17 – 18, 2020 – Palette knife portraits in oils
MICKLEMS FARM CREATIVE WORKSHOPS
https://www.micklemsfarm.com
March 14, 2020 – Portraits with painting knives.
Date to be confirmed, 2020 – Loosen up in oils.
October 10, 2020 – Expressive portraits in oils.
ART EVENTS GROUP
http://www.art-events.co.uk
Oct 17, 2020 – Expressive portraits in oils or Acrylics.
TRURO ARTS COMPANY
https://www.truroartscompany.co.uk
Sept 4 – 5, 2020 – Expressive Portrait Painting
in Oils or Acrylics.
TESTIMONIALS
"Thank you Mark for last night's demonstration. What a brilliant start to Ricky Art Society's new programme!
Your oil painting portrait of Mick captured the essence of him from the start – and as he emerged before our eyes, we were spellbound. It was interesting that you decided to use a limited palette (Zorn) , which is comparatively new to you, but it was a great success. Very impressive. It was like there were two Micks in the room.
We enjoyed your clear and informative teaching style; this, together with your enthusiastic approach throughout the session kept us enthralled from start to finish.
The members of our society have commented on how much they enjoyed the demonstration and how impressed they were with the likeness you captured. Thank you also for bringing along other examples of your work. The general opinion was that you were the best portrait demonstrator that we have had. "
Barbara Burrows
Chair, Ricky Art Society.
"Mark is a highly accomplished artist and an
excellent teacher, he has a lovely manner with the students making them feel comfortable, confident and inspired. Mark demonstrated techniques in a clear
and easy to understand way. Using both group demonstrations and one on one tuition, he encouraged my students to progress and produce beautiful pieces of their own as well as learning new skills. Working
with Mark was a pleasure, he is a reliable and friendly tutor, great for both beginner and experienced artists and I look forward to working with him again."
Julia Evans
www.arthousecostablanca.com
"Mark's one day Portrait Painting Course was great. I can't praise it enough.
There were just the right number of people in the class, and the structure of the day was very well organised. Firstly, Mark would demonstrate how to tackle each stage eg measuring the distances of the face to get
the architecture right, getting the under painting underway, colour mixing to capture the range of skin tones, building the darker tones first, and, importantly for me, making bigger and bolder brush strokes. After each demonstration, we worked individually on our portraits, but with lots of personal attention and guidance from Mark. The whole day
was a great introduction to Portrait Painting, and very enjoyable too.
My aim was to build the confidence to paint more boldly and use big brush strokes and this course helped a lot.
I would recommend Mark, and this course, wholeheartedly. Thank you Mark,"
Best wishes
Jean
"The day was a lot of fun and I learnt a lot about how
to get the most out of using oils. It was very refreshing and inspiring to see Mark's demonstrations.
He was very informative, helpful and made the whole experience very enjoyable. I am very much looking forward to the next course I am booked to
do with him."
Cecilia Mabey
"I thoroughly enjoyed the Portrait painting day, despite being new to oils. You are an excellent, patient tutor
and I am in awe of your talent. You explained the process very thoroughly and backed up every process with a fantastic demonstration. I particularly liked the fact that you were prepared to help me when I was floundering and to demonstrate how to correct or achieve a better result. That for me was priceless!
The day went so quickly, how time passes when you are enjoying yourself.
Thank you once again for a very informative and constructive day."
Regards
Yvonne Gillespie